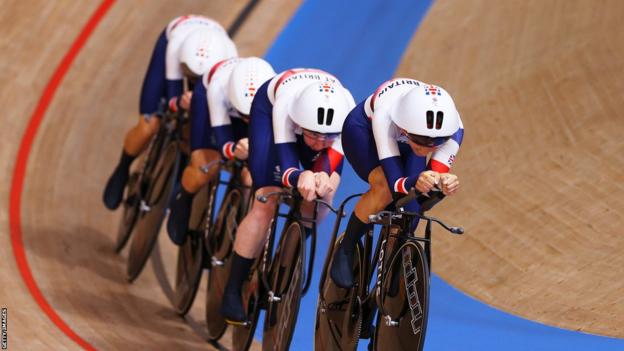 Katy Marchant and Elinor Barker have been included in Great Britain's squad for the European Track Championships in what will be their first international competition since giving birth.
Olympic bronze medallist Marchant, 30, who gave birth to son Arthur in June 2022, is in the women's sprint team.
Olympic gold and silver medallist Barker, 28, is part of the endurance squad, 10 months after having son Nico.
The competition takes place from 8-12 February in Grenchen, Switzerland.
Wales' Barker, who was pregnant when she helped Britain to team pursuit silver at the Tokyo Games, is picked alongside Katie Archibald, Josie Knight, Neah Evans, Anna Morris and Ella Barnwell.
The tournament is the start of the qualification period for the 2024 Olympics Games in Paris.
"In the case of Elinor Barker and Katy Marchant, this is the first opportunity to see them competing on the international stage since giving birth, so it's a pleasure to welcome them back," British Cycling's performance director Stephen Park said.
Dan Bigham, Ethan Vernon and Ollie Wood, who were part of the quartet that won the team pursuit world title in October alongside Ethan Hayter, are joined in the men's endurance squad by Charlie Tanfield and debutants Will Perrett and Fred Wright.
Joe Truman will also return for the men's sprint, in his first major event since injury at the 2022 Commonwealth Games.
Great Britain's squad for the European Track Championships
Men's endurance: Dan Bigham, Will Perrett, Charlie Tanfield, Will Tidball, Ethan Vernon, Ollie Wood, Fred Wright.
Women's endurance: Katie Archibald, Elinor Barker, Ella Barnwell, Neah Evans, Josie Knight, Anna Morris.
Women's sprint: Lauren Bell, Sophie Capewell, Emma Finucane, Katy Marchant.
Men's sprint: Jack Carlin, Ali Fielding, Joe Truman, Hamish Turnbull.