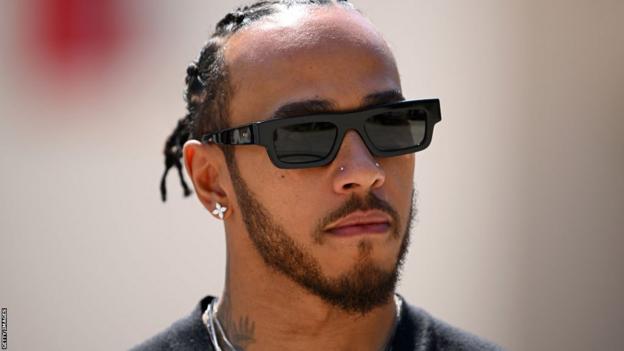 Lewis Hamilton has been given permission to wear a nose stud while racing despite a ban on Formula 1 drivers wearing jewellery in their car.
Stewards at the season-opening Bahrain Grand Prix gave Hamilton a medical exemption to leave his stud in place.
The ruling said: "There are concerns about disfigurement with frequent attempts at removal of the device."
It will be seen as a climbdown from governing body the FIA after it took a hard line on jewellery last season.
Hamilton was forced to remove all his jewellery before driving for much of last season, after something of a stand-off with FIA president Mohammed Ben Sulayem in the first part of the season.
An FIA spokesperson insisted that the move was "a continuation of the scenario last year" and said it was "standard procedure to issue a decision based on the scrutineering submission we received".
The FIA added: "The rule exists for safety reasons and applies to all competitors in all FIA competitions. Formula 1 drivers are the most visible competitors in world motor sport, and it is their responsibility to set the example for other drivers at every age, level and discipline."