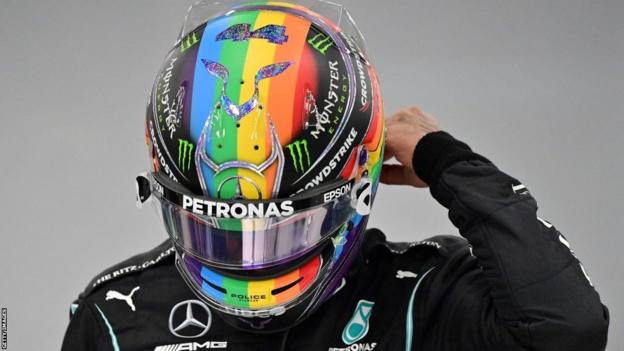 Lewis Hamilton has criticised plans to expand a controversial law on sexual education in Florida.
"It's not good. At all," Hamilton said. "I stand by the LGBTQ community here and hope they continue to push back."
Hamilton said he would race in Miami this weekend with a rainbow flag in support of LGBTQ+ rights on his helmet.
"It is no different to when we were in Saudi," the Mercedes driver added. "It is not the right direction and not the right message.
"I am here and hoping that just by showing up with my helmet I will be continuing to support the LGBT community and showing I stand with them in solidarity. I hope they continue to fight against it.
"My sympathy and thoughts are with the people here in Miami. It's not them making the decisions, it's the people in government and that's the issue.
"The sport is going to be here whether I am here or not. While I am here, I am just going to continue to be supportive."
The law, officially titled the Parental Rights in Education Act, passed last year and is currently in effect for public schools from kindergarten through third grade.
DeSantis is poised to extend it to all grades, through to the final year of high school.
Teachers who violate the law – denounced by critics as "Don't Say Gay" – face being suspended or losing their teaching licences.
Listen to the Miami Grand Prix preview show on BBC Radio 5 Live on Friday, 5 May at 21:00 BST.