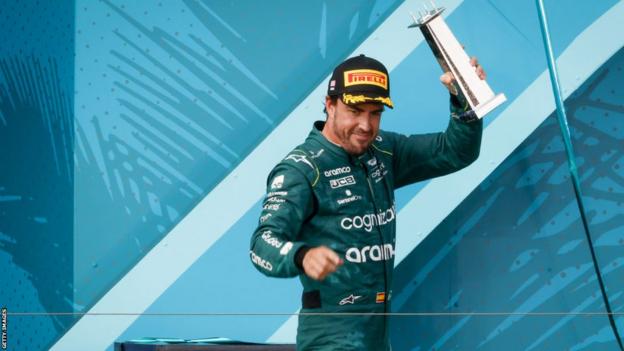 Fernando Alonso says he starts this weekend's Monaco Grand Prix "thinking I will try to win".
The 41-year-old believes the track's unique demands could give his Aston Martin team a chance to challenge the dominant Red Bulls.
Alonso said: "It is a very specific circuit. There is this kind of one-off opportunity which I try to maximise."
But the two-time winner in Monte Carlo added he was "not thinking that we are the strongest in Monaco".
Alonso also expected Ferrari, who are 24 points behind Aston Martin in the constructors' championship, to challenge.
Ferrari's Charles Leclerc is the only driver not from Red Bull to qualify on pole so far this season – at the Azerbaijan Grand Prix last month – and has been on pole for the last two Monaco Grands Prix.
"Ferrari was outstanding in Baku," said Alonso, who won in Monaco for Renault in 2006 and McLaren in 2007. "We could see another great weekend for them. But then if I tell you I don't come here thinking I could win the race, I would lie to you.
"This is one of the specific race tracks. You have to build confidence, and I will attack more than any other weekend."
Alonso's hopes are based on the fact the Monaco track seems to play to Aston Martin's strengths and minimise their weaknesses.
The Aston Martin has been especially strong in corners, particularly slow-speed ones, while it has not excelled on the straights.
Red Bull has been strong everywhere, but is especially renowned for its aerodynamic efficiency which gives it a significant advantage at high speed.
Monaco is the slowest lap of the year and is a track made up predominantly of slow and medium-speed corners, with the lowest percentage of time at full throttle. Because of this, overtaking is more difficult in Monaco than at any other track, so qualifying takes on great importance.
World championship leader Max Verstappen, who has won three of the five races so far this season, sounded relatively downbeat about his chances this weekend.
"It is going to be a little more difficult and closer together, but we still have a good car," the Dutchman said. "It is just trying to extract the most out of it.
"We know that over one lap is normally not our strongest point, but nevertheless we still took quite a few pole positions this year. It's still possible but for sure Monaco can always be quite a surprise."
Asked whether he expected Ferrari or Aston Martin to be Red Bull's closest challenger, Verstappen added: "A bit of both. Also we don't know what Mercedes is doing. It is not the end of the world, it is only one race in the calendar. We just need to score good points.
"Naturally, maybe Charles, well, Ferrari in general. Carlos [Sainz] is also pretty handy around here, but also Aston Martin are quite good in the low speed. They haven't been as efficient on the straights, so here I think they can be close, yes."
Verstappen's team-mate Sergio Perez, who trails the Dutchman by 14 points in the drivers' championship after two wins, added: "We certainly know it's not our strongest circuit.
"We will struggle a bit to show our strengths. On Saturday you need a good warm-up on your tyres, that is the key around here. It is still Monaco, anything can happen.
"Fernando, the Ferraris, I do expect them to be quite strong as well. Over one lap they will be strong – and also Mercedes can be in the mix."
The uncertainty over Mercedes arises from the fact the former champions are debuting a major car upgrade this weekend, with a new front suspension, sidepod and floor design, after admitting it had been a mistake to stick for this season with their previous approach.
George Russell said: "What we have tried in the simulator has been positive, it is mechanical and aerodynamics.
"The aero will definitely bring performance. The mechanical, we need to wait and see until we get on track. There are arguments to say it might deliver more on track than in the sim because it is going to be helping our confidence, whereas in the sim confidence is not a consideration.
"Historically, Ferrari are always very competitive here. I don't know what they do that makes their car so good on the types of circuits – look at Singapore, Baku, Monaco, street circuits and using the softest compound of tyre.
"They probably perform better on Saturday than on a Sunday and we are going to be doing everything we can to try to improve our qualifying performance, because we know if we are on the back foot we are not going to be able to overcome those positions on Sunday.
"We know it's going to be a challenging weekend and that is just inherently in our DNA with Monaco and the challenges this race brings us."