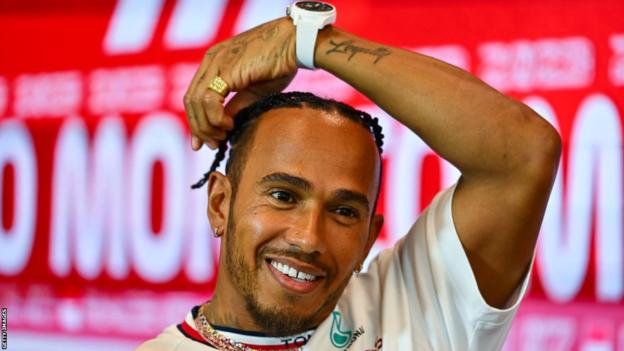 Lewis Hamilton says he has not been in talks with Ferrari and he and Mercedes are close to agreeing a new contract to keep him at the team beyond this season.
Hamilton's deal with the Silver Arrows runs out at the end of this season.
He said he had a team working with Mercedes team principal Toto Wolff on the new contract.
This week, there have been reports that Ferrari had contacted Hamilton about him switching to the Italian team.
Hamilton said Mercedes' struggles to be competitive since 2022 "don't have a bearing" on him wanting to stay.
He added: "This is the first time I have not been negotiating myself and I have a great team in the background doing all the work and I can focus on the job. I say what I want and that's what we're working towards."
But both the seven-time champion and the Italian team denied that was the case as F1 gathered in Monaco for this weekend's grand prix.
"Naturally, when you are in contract negations, there is always going to be speculation and unless you hear it from me, that's what it is," Hamilton said.
"Maybe with the race (in Imola last weekend) being cancelled, they just got bored.
"My team is working closely behind the scenes with Toto and we are almost at the point of having a contract ready. It is much more relaxing now because before I was doing it myself."
Asked directly whether Ferrari had been in touch, Hamilton said: "No."
Ferrari team principal Frederic Vasseur said: "You know perfectly that at this stage of the season each week you will have a different story and we are not sending an offer to Lewis Hamilton. We didn't do it.
"We didn't have discussions. I think every single team on the grid would like to have Hamilton at one stage – it would be rubbish to not say something like this."
Vasseur said it was too early for Ferrari to start negotiating with their drivers Charles Leclerc and Carlos Sainz over their futures. Both are contracted until the end of 2024.
"The most important (thing) for us is to stay focused on the development in the current season," Vasseur said.
"In a couple of months, we'll have the slot to discuss about the future.
"We agreed that we'll discuss about the contracts later on and I don't want to change because we had rumours from someone that Lewis could come or Charles could go or Carlos could go. We are dealing with our jobs internally and I will stay focused on the plan."
Drivers on Mercedes upgrade
Hamilton said he was looking forward to trying the upgraded car Mercedes have brought to Monaco, which is the first step in a development plan kicked off when Wolff admitted at the first race of the season that the team had made a mistake in pursuing their unique car concept.
The Mercedes design revised sidepods, floor and front suspension, and it is in a similar vein to that pioneered by Red Bull when F1's new rules were introduced in 2022.
Aspects of the design also bear similarities to the Aston Martin, which has been the surprise of the season in 2023.
"It will be interesting to see how it works," Hamilton said. "I don't think we will be fighting for a win but hopefully we will be more in the fight.
We are still a championship-winning team but we have had the wrong car and some decisions that have been made are not ideal."
Team-mate George Russell said Mercedes would not draw any conclusions about the performance of the upgrade this weekend because of the uniqueness of the tight and twisty Monaco circuit.
Russell said: "We are aware this is a very one-of-a-kind circuit and we are not going to read anything into the performance that the new updates show this weekend.
"There are always outliers in teams who over perform around tracks like Monaco and teams that underperform. But ultimately we don't design a car to be at its peak in Monaco.
"I trust in the team and I don't think there will be anything scary with the upgrade that throws us off-piste.
"We will treat it as a one-of-a-kind and then re-evaluate in Barcelona (the following weekend).
"I am glad we are proceeding with it because you always want to put as much performance on the car as possible and it would have been a demoralising weekend for all of us had we known we had a bit of performance on the table."